LeSS Newsletter - May 2017
10.05.2017
Hi,
And... without noticing it... it is already May. Time goes too fast, but lots of things happening also! We'd like to share some.
LeSS Conference London
We're proceeding with the LeSS Conference 2017 London. The date was already set (13-14 September) and the venue is now also set (the Rocket in London). With that, we could finally open the registrations and you can find the registration page here. We'll limit the amount of participants as we'd not want to conference to become too big :P
We're still working on the program. So far, Bas Vodde and Craig Larman are confirmed. We will again have an Experience and an Experiments track. We will have Open Space and games, and more. We're looking forward to the event!
If you have something to share and want to speak, please mail Bas. We won't have a submission system but are always looking for good talks and especially more experience reports!
Complete Picture Introduction Video
Michael James (of Scrum Master Checklist fame) has created a wonderful introduction to LeSS video that shared the LeSS Complete Picture. He published it here. We hope this video introduction is useful for you. We'll be making more LeSS videos in the future, including some course refreshers for the Certified LeSS Practitioners.
Coaching Camp
In the summer time, there will be the first LeSS Coaching Camp. This is organized by and for LeSS coaches and will happen on August 25th to 27th and will be in Berlin. The goal is to create a space for co-learning with other practicing LeSS practitioners. The maximum amount of participants will be 30, so if you want to be one of them you'll need to hurry up. You can register here.
Games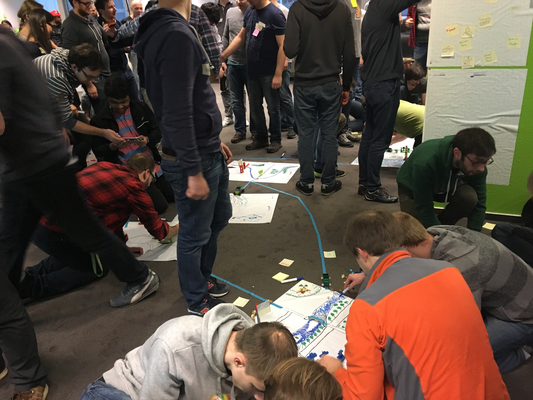 Playing games is fun and a great way to learn. Many practitioners, trainers, and coaches have invented games to teach LeSS or concepts in LeSS. Terry Yin and Bas Vodde have created the "Build your own LeSS" which is based on Adam Weisbart's Build your own Scrum. We'll publish this as soon as the graphics are finalized and we'll be collecting the LeSS game instructions on the LeSS.works site. Let us know if you have any games to share. In addition, we're considering having a games track on the upcoming LeSS conference, so if you want to share your LeSS game there, let us know.
Alexy Krivitsky uses lego to simulate LeSS. Recently he did this with 155 people, and wrote down his experience. The LeSS Lego simulation will also be added to the site games section... soon.
LeSS Rules card
Michael James has created handy LeSS Rules cards (and with a de-scaling article). We've put them on the LeSS site so other people can use them to. You can find them here. He has distributed them in the San Diego Scrum Gathering, but has a couple of physical cards left. If you want him to send you some, contact him at mj AT seattlescrum.com.
Scrum Alliance and LeSS
As mentioned in a previous mail, the LeSS Company and Scrum Alliance have agreed on a partnership. We'll keep you up to date on this through this newsletter. Since the previous announcement, we're increased the criteria and the focus on the LeSS Friendly Scrum Trainers. Also, we've kicked off group who will be exploring a one-day introduction to LeSS basics course.
Learning Resources
As usual, we'd like to share some LeSS and related articles. This news letters selection:
LeSS Trainer - Elad Sofer
I will start and present myself the way I often do in presentations/courses or webinars:
My name is Elad Sofer; I'm a father, a Husband, a Software developer, an amateur DJ, a soccer fan and a Certified LeSS Trainer.
I have been a SW developer for as long as I can remember, in various positions, companies and roles. The past 8 years, I've been a full-time Agile coach of which the last 5 years as a co-founders of Practical-Agile, an Israeli based Agile coaching firm. I am also the only certified LeSS trainer in Israel currently. Even though I'm part of the LeSS Trainer community for 2 years now, my romance with LeSS starts way back!
The company that most likely impacted my career is Nokia Networks. It is while working there that I learned about these things called Agile and Scrum, and to be honest, at the time we didn't really know how to do Scrum or be Agile at all, and we definitely did not have the understanding of how to do this at scale. Luckily we had some support and a lot of inspiration from Bas and Craig who had a huge influence on how agile adoption were done at Nokia Networks. (which is partly documented in the first 2 LeSS books).
So, way before I was part of the LeSS commuity, and even before LeSS was LeSS, I liked what was evolving there. I liked it a lot! These days I'm helping my customers improve their organizational agility , I do this mostly by coaching and mentoring product groups and organizations with LeSS adoptions, and by running Certified LeSS training mostly in Europe and Israel. While i do co-own a company, I consider myself a part of a team of LeSS trainers with the mission to help organizations improve and grow and i really like co-training and co-coaching (do contact me!)
For me, being an agile coach and a part of the LeSS community is a journey towards improving the well-being of people and organizations.

Hope to see you at the LeSS conference in London - Sep 2017, and may the force be with you